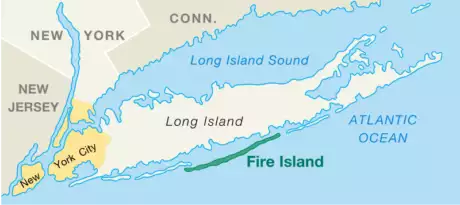 Nestled in the southeastern region of New York, Long Island is a bustling island that boasts a plethora of activities and attractions for travelers and visitors alike. As the most populous island in the United States, Long Island is home to over 8 million people and is a popular destination for those seeking a mix of beachside relaxation and urban excitement.
Long Island's geography is unique, with a length of 118 miles extending eastward from New York Harbor to Montauk Point. Its maximum north-to-south distance is 23 miles, and it is bordered by the Atlantic coast to the south and Long Island Sound to the north. The island is surrounded by smaller outer barrier islands, such as Block Island, which is part of Rhode Island.
Visitors to Long Island can take advantage of the island's numerous forms of transportation, including multiple airports, rail and subway lines, bus routes, and ferry services. For those seeking a more scenic route, there are several historic and modern bridges, as well as recreational and commuter trails, serving different parts of the island.
One of Long Island's most notable attractions is its beautiful beaches, with miles of coastline and crystal-clear waters. Jones Beach, located on the south shore, is a popular destination for swimming, sunbathing, and other beach activities. Other popular beaches include Fire Island and Montauk Beach, both known for their breathtaking ocean views and lively beach communities.
In addition to its beaches, Long Island is home to a diverse array of cultural attractions, including art museums, theaters, and historic landmarks. The Long Island Museum in Stony Brook features exhibits on Long Island's history and culture, while the Tilles Center for the Performing Arts hosts concerts, plays, and other performances throughout the year.
For those seeking a more urban experience, Long Island is home to several bustling cities, including the city of Long Beach and the city of Glen Cove. These cities offer a range of dining, shopping, and entertainment options, as well as vibrant nightlife scenes.
Local businesses on Long Island cater to a wide range of interests, from luxury spas and golf courses to farm-to-table restaurants and craft breweries. Visitors can explore the island's rich agricultural history by visiting one of its many farms, such as Wickham's Fruit Farm in Cutchogue, which offers pick-your-own produce and homemade pies.
Whether you're seeking a relaxing beach vacation or an exciting urban adventure, Long Island has something to offer. With its diverse range of activities and attractions, it's no wonder that Long Island is a favorite destination for travelers from around the world.
There are eleven road crossings out of Long Island, all but one providing Brooklyn-Manhattan, Queens-Manhattan, and Queens-Bronx connections across the East River, with the Triborough Bridge providing two connections from Queens, one each to Manhattan and the Bronx. The single non-East River crossing is the Verrazzano-Narrows Bridge, connecting Brooklyn to Staten Island across The Narrows.
VIP ALL STATE SERVICE serves the entire New York area, including Manhattan, the Bronx, Queens, Brooklyn, Long Island, Staten Island, New Jersey, Connecticut, Westchester, and some US cities. Do you need a chauffeur driven car from JFK Airport SUV • LGA Airport SUV • EWR Newark Airport SUV • ISP Airport SUV • TEB Teterboro to Midtown Manhattan/Times Square? Whether you need to get somewhere nearby or you are planning to enjoy a longer trip to a faraway place, VIP ALL STATE SERVICE has you covered.