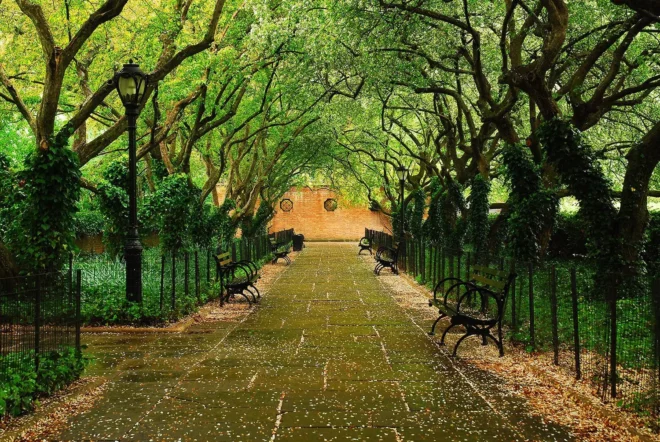 Parks
The city of New York has a complex park system, with various lands operated by the National Park Service, the New York State Office of Parks, Recreation and Historic Preservation, and the New York City Department of Parks and Recreation.
National parks
Gateway National Recreation Area contains over 26,000 acres (110 km2), most of it in New York City.  In Brooklyn and Queens, the park contains over 9,000 acres (36 km2) of salt marsh, wetlands, islands, and water, including most of Jamaica Bay and the Jamaica Bay Wildlife Refuge. Also in Queens, the park includes a significant portion of the western Rockaway Peninsula, most notably Jacob Riis Park and Fort Tilden. In Staten Island, it includes Fort Wadsworth, with historic pre-Civil War era Battery Weed and Fort Tompkins, and Great Kills Park, with beaches, trails, and a marina.
The Statue of Liberty National Monument and Ellis Island Immigration Museum are managed by the National Park Service and are in both New York and New Jersey. They are joined in the harbor by Governors Island National Monument. Historic sites under federal management on Manhattan Island include Stonewall National Monument; Castle Clinton National Monument; Federal Hall National Memorial; Theodore Roosevelt Birthplace National Historic Site; General Grant National Memorial (Grant's Tomb); African Burial Ground National Monument; and Hamilton Grange National Memorial. Hundreds of properties are listed on the National Register of Historic Places or as a National Historic Landmark.
State parks
There are seven state parks within the confines of New York City. Some of them include:
The Clay Pit Ponds State Park Preserve is a natural area that includes extensive riding trails.
Riverbank State Park is a 28-acre (11 ha) facility that rises 69 feet (21 m) over the Hudson River.
Marsha P. Johnson State Park is a state park in Brooklyn and Manhattan that borders the East River that was renamed in honor of Marsha P. Johnson.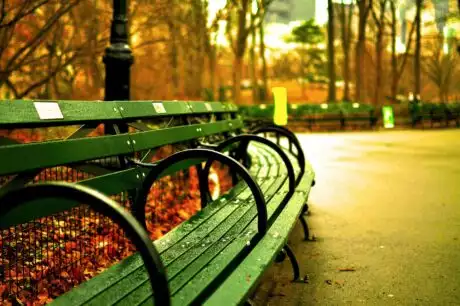 City parks
New York City has over 28,000 acres (110 km2) of municipal parkland and 14 miles (23 km) of public beaches. The largest municipal park in the city is Pelham Bay Park in the Bronx, with 2,772 acres (1,122 ha).
Central Park, an 843-acre (3.41 km2) park in middle-upper Manhattan, is the most visited urban park in the United States and one of the most filmed locations in the world, with 40 million visitors in 2013. The park has a wide range of attractions; there are several lakes and ponds, two ice-skating rinks, the Central Park Zoo, the Central Park Conservatory Garden, and the 106-acre (0.43 km2) Jackie Onassis Reservoir. Indoor attractions include Belvedere Castle with its nature center, the Swedish Cottage Marionette Theater, and the historic Carousel. On October 23, 2012, hedge fund manager John A. Paulson announced a $100 million gift to the Central Park Conservancy, the largest ever monetary donation to New York City's park system.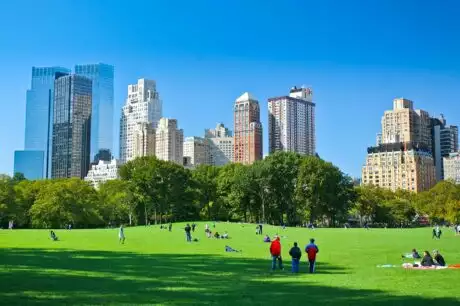 Washington Square Park is a prominent landmark in the Greenwich Village neighborhood of Lower Manhattan. The Washington Square Arch at the northern gateway to the park is an iconic symbol of both New York University and Greenwich Village.
Prospect Park in Brooklyn has a 90-acre (36 ha) meadow, a lake, and extensive woodlands. Within the park is the historic Battle Pass, prominent in the Battle of Long Island.
Flushing Meadows–Corona Park in Queens, with its 897 acres (363 ha) making it the city's fourth largest park, was the setting for the 1939 World's Fair and the 1964 World's Fair and is host to the USTA Billie Jean King National Tennis Center and the annual U.S. Open Tennis Championships tournament.
Over a fifth of the Bronx's area, 7,000 acres (28 km2), is dedicated to open space and parks, including Pelham Bay Park, Van Cortlandt Park, the Bronx Zoo, and the New York Botanical Gardens.
In Staten Island, the Conference House Park contains the historic Conference House, site of the only attempt of a peaceful resolution to the American Revolution which was conducted in September 1775, attended by Benjamin Franklin representing the Americans and Lord Howe representing the British Crown. The historic Burial Ridge, the largest Native American burial ground within New York City, is within the park.
VIP ALL STATE SERVICE serves the entire New York area, including Manhattan, the Bronx, Queens, Brooklyn, Long Island, Staten Island, New Jersey, Connecticut, Westchester, and some US cities. Do you need a chauffeur driven car from JFK Airport SUV • LGA Airport SUV • EWR Newark Airport SUV • ISP Airport SUV • TEB Teterboro to Midtown Manhattan/Times Square? Whether you need to get somewhere nearby or you are planning to enjoy a longer trip to a faraway place, VIP ALL STATE SERVICE has you covered.